Whoever said the only two certainties in life are death and taxes didn't have a 14-year-old. Indeed, teenage indifference is definitely third on this list, as any parent knows that shoulder shrugs, eye rolls, and sheer disregard for Mom and Dad's existence are almost a constant.
And yet, when it comes to a teen's private lair (i.e., their bedroom), there may be a chink in the armor. If you're able to help transform it into a way-cool hangout, you just might gain some street cred around the house.
The trick? Enlist your teens in the project and try tapping in to their hobbies, sports teams, or other current obsessions for inspiration.
"Bring your teen into the design process, and then allow them to really reflect their style through bedding, accessories, and even paint colors," suggests Drew Henry, the interior genius at Design Dudes.
Ana Cummings of the eponymous design firm is presently at work on a teen room. She has two of her own at home, so she's well aware of the drama that can surround this type of project.
"Teen rooms should be styled so they can grow into them. They change so quickly, and what they're into can suddenly shift to something else," she says.
For some help, here are eight tips and fun bedroom decor products that just might earn you a nod of appreciation from your teen.
1. Pick a queen (or king)
Your teen is growing like a weed, so a tiny twin bed won't do.
"Twins say 'little kid' when you see them in a teen bedroom, so try to fit a queen or king into the space if you can," says Cummings.
An attractive upholstered find like this one ($999, Pottery Barn Teen) should be appealing since it comes in a dusty blush shade and neutrals like linen white and charcoal.
And if you're eco-conscious, you can feel good about the splurge—it's met a high standard for indoor air quality thanks to testing for thousands of nasty chemicals and volatile organic compounds.
Another reason to skew bigger in terms of bed size? It'll serve you for longer than your teen is in residence.
"Many teens are going off to college shortly, so this room will likely be used by guests later on," says Henry.
2. Choose soothing colors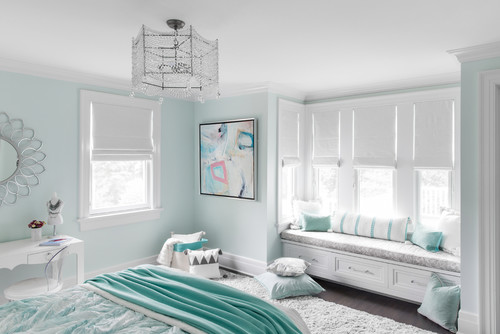 Photo by Michael Robert Construction 
Tangerine orange may be all the rage with your kid, but bright hues aren't always popular for long.
"Overly themed rooms get tired really fast, and crazy colors that don't mesh well with the vibe of the home always seem out of place to me," says Cummings.
And remember—it's a bedroom, which means sleep is the goal at some point, even though your teen probably keeps late hours. Better color palettes include soothing blues, greens, and grays.
3. Add smart accents
Cummings votes for comfortable accent chairs, beanbags, or even a small couch if the space allows. This cozy seat ($122, Target) comes in three shades and sports a soft, plush backing for hours of phone scrolling—we mean, um, homework.
4. Style the closet, too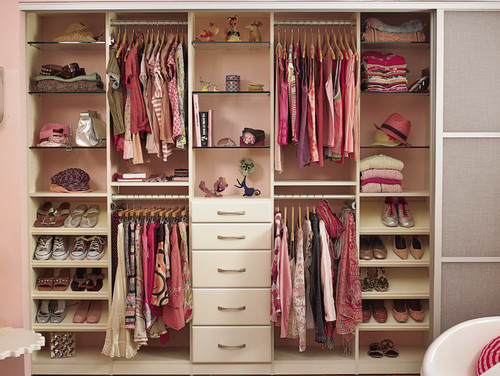 Photo by California Closets Connecticut 
After all your hard work with decor, you'd hate to see it covered up with sweaty hockey gear and random T-shirts. The fix: Make the closet area a standout so your teen will actually want to pick up.
"Closet organization is key as well as a place to put dirty laundry, other than the floor," says Cummings.
5. Build in a workspace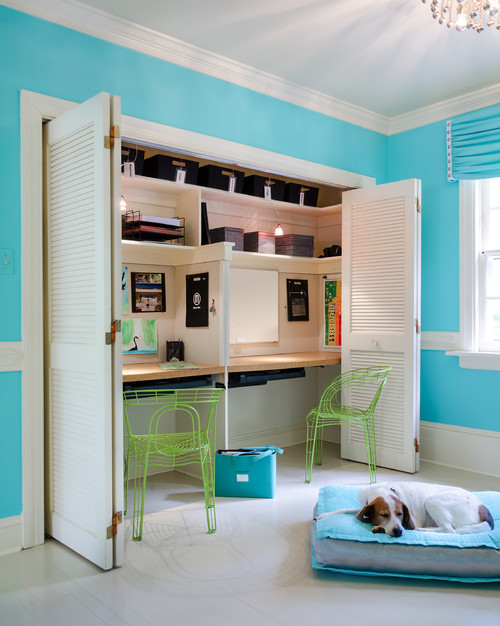 Photo by Kathy Corbet Interiors 
Folding doors, as shown here, hide desks and shelves when they're not in use—and they help a teen stay on task since the built-ins are right in the bedroom.
"Anything you can do in a kid's room should absolutely be geared toward setting themselves up for success on a daily basis," says Cummings.
6. Install fun shelves
Curating your own bookshelves with favorite objects and pictures is a big part of the decor in a teen's room. This affordable set of three floating shelves is easy to install and comes in black, dark walnut, and gray ($25, Wayfair).
7. Allow for primping
A simple full-length mirror is important for reviewing the #OOTD, so opt for a neutral style that'll appeal to every kind of kid. The grayish white ($190, Wayfair) tones here will match nearly every color scheme in a teen's bedroom, and this piece comes with all the hardware you need for quick hanging.
8. Try a mural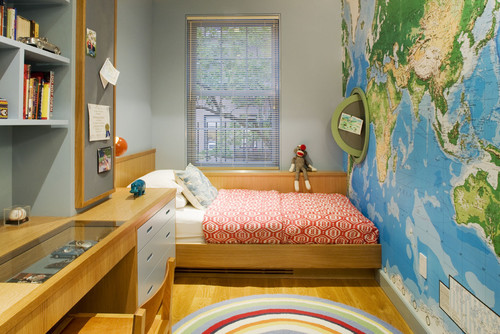 Decor that's out, per Cummings: cutesy wallpaper, cartoon images, paper posters, flags, plastic cheap things, and anything pinned or taped to the wall.
As for what's A-OK? "Cool original artwork or a mural on the wall," she says.
Consider an abstract print or a world map, as seen here, especially if it's of the peel-and-stick variety.