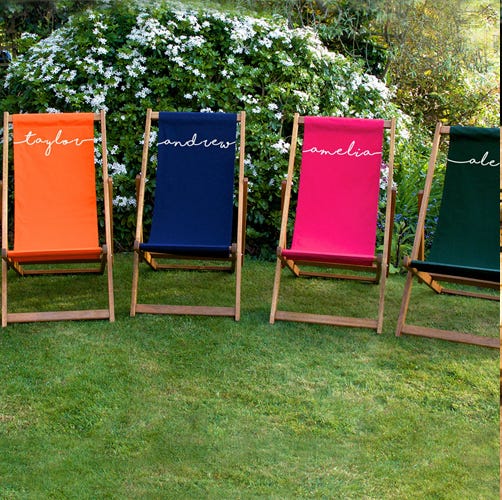 Etsy
It's that time of year when family gatherings move outdoors, whether it's planning a quick and easy dinner, movie night or a fun day filled with backyard games. To kick off the warm-weather season, Etsy just announced its very first Outdoor Sales Event, which includes major discounts on just about everything you need to arrange a stylish backyard. But you'll have to act fast, as the sale only runs from May 18 to 24 (enjoy early access on May 17 if you have the Etsy mobile app).
So what can you expect? You'll be able to score impressive deals on patio furniture (think durable wooden tables and seating), a slew of backyard games, and much, much more. Scroll down for a sampling of the outdoor items that Etsy will have on sale and get ready for some fun in the sun!
Advertisement – Continue Reading Below
1
Personalized Adult Deckchair
jonnyssister
etsy.com
$183.72
The teenagers in your life won't even think of bickering over a deckchair if they can claim one of these personalized beauties. 
2
Plant Markers
Perfect for encouraging their green thumb, these personalized wooden markers can be used for any herbs or vegetables of your choice.
3
Reusable Washable Cotton Food Cover
PeaceOutPlastic
etsy.com
$8.00
Insects don't stand a chance if you have these pretty reusable covers protecting your food. 
4
Wooden Dominoes
WoodNLotsOfLove
etsy.com
$77.88
There's no doubt that your family members will reach for these wooden dominoes whenever their competitive spirit strikes.
5
Hand Embroidered Round Picnic Blanket
jonnyssister
etsy.com
$70.55
If there's one thing you need to get through spring and summer, it's a stylish picnic blanket. This round design with pink hand embroidery and white fringe detail fits the bill.
6
Wine wooden table
ExperiencedDesign
etsy.com
$189.00
An evening at home with your favorite bottle of vino is guaranteed to be picture-perfect if this wooden table — complete with spots for two glasses and small bites — is in the mix. 
7
Lemon Doormat
InteriorNiche
etsy.com
$48.88
Elevate your front door with this durable coir doormat, featuring cheery hand painted lemons. 
8
Tablecloth Play House
MoontasticStudio
etsy.com
$76.00
Let your kid's imagination run wild with this tablecloth playhouse that's easy to deck out in string lights for even more fun.
9
Block Printed Linen Napkins
juliepeach
etsy.com
$28.00
Ditch paper napkins and go for this vibrant block printed design instead. They're perfect for dressing up the most basic outdoor table. 
This content is created and maintained by a third party, and imported onto this page to help users provide their email addresses. You may be able to find more information about this and similar content at piano.io
Advertisement – Continue Reading Below