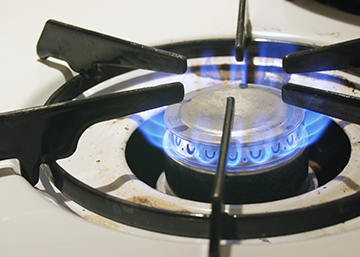 BY EMILY MIBACH
Daily Post Staff Writer
Menlo Park officials are considering whether to require residents to remove natural gas appliances from their homes, such as stoves, heaters and dryers, as a way of stopping climate change. But the ban could increase utility bills.
One of the goals in the city's Climate Action Plan is to "explore policy/program options to convert 95% of existing buildings to all-electric by 2030."
The City Council in April asked the city Environmental Quality Commission to look at a cost-effectiveness analysis and come up with a recommendation on how city officials would implement such a plan.
Based on a study prepared by the city's Sustainability office and city consultant TRC Inc., adding an electric water heater can either save $15 a year or cost an extra $80 every year, depending on the type of heater a resident buys. An electric space heater can cost an extra $60 annually, the report says.
However, that cost could be reduced if the city offers incentives to residents.
Other cities have paid for such incentives by charging a fee on new developments. Others have paid for incentives by raising the utilities tax.
Loans to homeowners
The report also suggests the city consider partnering with an outside agency to provide loans to people who want to electrify their homes but can't afford to.
Commissioner Tom Kabat said at a meeting of the environmental commission on Wednesday (July 21) that changing to electric appliances could be the cheapest way to fight climate change in the long run.
Commissioner Josie Gaillard said it has cost the state some $1 billion to fight wildfires and suggested that in the next 30 years, the cost could jump to $10 billion, or more. She also pointed out that the wildfires have pushed up some people's insurance costs.
Other ideas presented to the commission on ways to get people to switch to electric appliances included a marketing and education campaign, having electric appliances installed when modifications were being made to a home and when a home is sold.
However, TRC representative Farhad Faramand warned the commission that some of the ways could cause renters to get evicted for landlords to upgrade the appliances.
Businesses
The switch to all-electric appliances will also cost some businesses more, but the business portion of the report is not completed and did not have the same amount of detail as the housing portion.
But according to a preliminary report from TRC, depending on the type of appliances that warehouses, retail stores and quick service restaurants get, electric appliances could cost less than gas.
The commission did not make any recommendations to council as to how it should get people to switch to electric appliances and will further discuss the options at its Aug. 18 meeting.
The City Council will review the cost-effectiveness plan and the commission's recommendations at an Aug. 31 study session.